Invisalign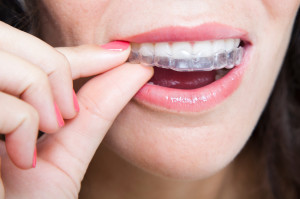 Invisalign is used as a method of straightening teeth without the need for traditional braces. Best for situations of mild to moderate spacing or crowding, Invisalign uses a series of clear plastic aligners to move teeth into their new straight position.
The idea of using aligners isn't necessarily a modern dentistry breakthrough, but the computer program used to generate new aligners with only small necessary changes to straighten the teeth is.
The aligners used with Invisalign are removable, but they must be worn for a certain amount of time throughout each day to effectively move the teeth into a straight position. Before opting for Invisalign to straighten teeth, calling us for a orthodontic consultation to make sure this is a good option for you is necessary.
---
The content offered on this website is for informational purposes only and does not seek to diagnose and/or treat any physical, medical, dental, and/or periodontal condition or disease. In addition, the offering and consumption of this content does not establish a doctor patient relationship. If you are experiencing any pain, discomfort, swelling, and/or bleeding in your mouth and/or jaw this may represent a serious condition and can only be diagnosed and treated by visiting a medical doctor, dentist, and/or periodontist in person.