Teeth Whitening and Bleaching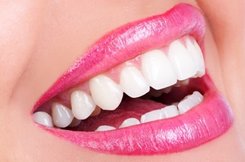 Having a white smile is ideal, but this is much easier said than done when considering all the things that can stain our teeth. Coffee, soda, tea, wine, smoking, and certain foods can all cause stains on the teeth, and these stains will often take a bit more than a simply brushing to wash away. With teeth whitening, we can help you to get your naturally white smile back again, and you may even opt for a shade whiter than your natural shade if you so choose.
Using a simple teeth whitening tray system, we employ a two-step process in order to painlessly leave your teeth whiter than ever before.
First, our dentists will make an impression of your teeth in order to craft the whitening tray itself, and then your custom molded tray can be used as often as you'd like to keep your teeth as white as you want. Using a teeth whitening gel inside of the tray, we find that patients can achieve a level of whiteness between 4 and 8 shades lighter than what they began with.
---
The content offered on this website is for informational purposes only and does not seek to diagnose and/or treat any physical, medical, dental, and/or periodontal condition or disease. In addition, the offering and consumption of this content does not establish a doctor patient relationship. If you are experiencing any pain, discomfort, swelling, and/or bleeding in your mouth and/or jaw this may represent a serious condition and can only be diagnosed and treated by visiting a medical doctor, dentist, and/or periodontist in person.