ZOOM! Teeth Whitening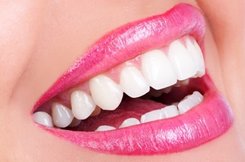 It's tough to keep our teeth as white as we'd like them to be, and many of our favorite foods and drinks can actually contribute to difficult to remove staining on our teeth. While teeth may be naturally white, coffee, tea, wine, and other favorites can cause them to lose that shine we want in our smiles, but our Zoom! teeth whitening can help you to get that luster back.
The product Zoom! that we use in whitening the teeth is a safe whitening gel that is activated by exposure to low intensity light. The gel will be applied and allowed to be in the presence of the light while you sit and relax, and this method can leave you with teeth 6 to 10 shades lighter in as little as an hour.
---
The content offered on this website is for informational purposes only and does not seek to diagnose and/or treat any physical, medical, dental, and/or periodontal condition or disease. In addition, the offering and consumption of this content does not establish a doctor patient relationship. If you are experiencing any pain, discomfort, swelling, and/or bleeding in your mouth and/or jaw this may represent a serious condition and can only be diagnosed and treated by visiting a medical doctor, dentist, and/or periodontist in person.