Dental Hygiene/Periodontal Health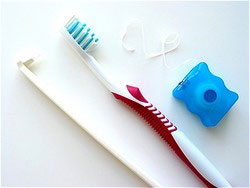 While we strive to provide only the best dental care at Stony Brook Family Dentistry, we alone cannot care for your teeth in the manner they should be cared for, and it will take some at home work on your part to ensure your teeth remain healthy and strong. A thorough and regular oral hygiene routine is required to remove debris and plaque from your teeth if you want to keep your natural healthy smile, and our dental professionals can help you to craft the right routine that works perfectly for you.
Oral hygiene encompasses more than just the teeth, and the entire mouth should be examined and cared for as a whole in order to maintain optimal oral health. The gums should always be cared for and inspected just as thoroughly as the teeth, and this should be done in order to avoid the damage caused by gum or periodontal disease. For our patients with periodontal disease, we can help to keep it under control in order to make strides towards better oral health, and this is done through our periodontal cleanings and treatments. Should we not offer the treatment you require for your periodontal or gum disease, we can refer you to a recommended specialist.
For plaque or tarter that accumulates above the gum line and is difficult to remove, we offer root planing services. You may not realize that you have debris trapped in this region as it's not easily seen by the naked eye, but experiencing bleeding while brushing the teeth is a sign you should keep watch for. Root planing removes this stuck on plaque and tarter using different dental instruments, and leaves the area of the tooth tucked under the gum line clean and smooth once again.
At Stony Brook Family Dentistry, we can also perform oral cancer screenings to catch any problems or concerns before they advance to a severe state by using simple ultraviolet light technology. Due to advancements in modern dentistry, we can now pinpoint oral cancer warning signs earlier than ever, and work to eliminate these problems using a variety of different procedures.
---
The content offered on this website is for informational purposes only and does not seek to diagnose and/or treat any physical, medical, dental, and/or periodontal condition or disease. In addition, the offering and consumption of this content does not establish a doctor patient relationship. If you are experiencing any pain, discomfort, swelling, and/or bleeding in your mouth and/or jaw this may represent a serious condition and can only be diagnosed and treated by visiting a medical doctor, dentist, and/or periodontist in person.