Bonding and White Fillings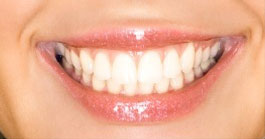 The bonding and white fillings at
Stony Brook Family Dentistry
are used to make you happier with a more aesthetically pleasing smile. Bonding with white filling can be used to correct, the following:
gaps within the teeth,
hide dramatic stains on the teeth,
reshape misshapen teeth, or
fill the crevice left in a tooth after a cavity has been removed.
The process of receiving a bonding with a white filling is a simple one. First, we will mold a composite resin over an adhesive gel placed on the tooth, and the resin and adhesive will then be exposed to an ultraviolet light. Exposure to the light hardens the resin, and you're only a quick polish away from a fresh new smile.
Bonding is an noticeable improvement over unsightly silver amalgam fillings. With the state-of-the-art advanced dental technology used in our office, bonding usually lasts for over 10 years. It is a safe, easily affordable, and an attractive option for many dental problems.
---
The content offered on this website is for informational purposes only and does not seek to diagnose and/or treat any physical, medical, dental, and/or periodontal condition or disease. In addition, the offering and consumption of this content does not establish a doctor patient relationship. If you are experiencing any pain, discomfort, swelling, and/or bleeding in your mouth and/or jaw this may represent a serious condition and can only be diagnosed and treated by visiting a medical doctor, dentist, and/or periodontist in person.