Diagnodent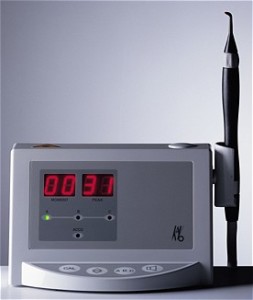 The Diagnodent helps detect dental caries at the earliest possible stage so that the most appropriate treatment can be presented to you.
Diagnodent is a fluorescent laser that finds cavities which lie beneath the surface of the tooth.  There are often cavities that x-rays and the explorer do not find. 
This advanced technology helps to preserve a greater amount of your tooth structure by uncovering dental decay before it progresses too far.
---
The content offered on this website is for informational purposes only and does not seek to diagnose and/or treat any physical, medical, dental, and/or periodontal condition or disease. In addition, the offering and consumption of this content does not establish a doctor patient relationship. If you are experiencing any pain, discomfort, swelling, and/or bleeding in your mouth and/or jaw this may represent a serious condition and can only be diagnosed and treated by visiting a medical doctor, dentist, and/or periodontist in person.