Veneers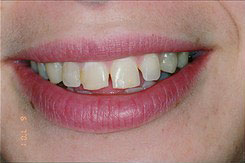 If you are unhappy with your smile for any reason, veneers can be an excellent solution. Veneers are made of extremely thin porcelain tooth covers or shells that adhere to the tooth surface and completely replace the outside of the tooth's structure. After they're placed, veneers can be used, chewed with, or brushed just like your natural teeth.
Our Stony Brook Family Dentistry patients may choose to opt for veneers for a variety of reasons, and they can fix problems from discoloration, to misalignment, and all the way to fixing chips or gaps. The placement of veneers will require 2 to 3 separate dental visits, the first of which is something of a consultation where we will talk about what the veneers will accomplished and how the procedure is expected to go.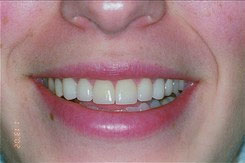 After the veneer plan is in place, we will then begin filing and preparing the teeth for the placement process, and this step is concluded with a mold being taken in order to shape your veneers. The mold will then be sent to the lab so your veneers, and your new smile, can be created, and we will provide you with an aesthetically pleasing temporary solution as you wait for your veneers to be finished.
In around 10 to 14 days, your veneers will be ready to be adhered to your teeth, and our dental professionals will make sure that your veneers look perfect and feel perfectly comfortable. By bonding the veneers in place, you can rest assured that you'll love your smile for years to come.
---
The content offered on this website is for informational purposes only and does not seek to diagnose and/or treat any physical, medical, dental, and/or periodontal condition or disease. In addition, the offering and consumption of this content does not establish a doctor patient relationship. If you are experiencing any pain, discomfort, swelling, and/or bleeding in your mouth and/or jaw this may represent a serious condition and can only be diagnosed and treated by visiting a medical doctor, dentist, and/or periodontist in person.