Dental Implants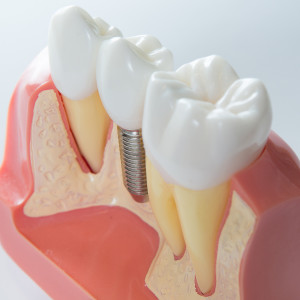 When teeth become missing for any reason, or need to be extracted, dental implants can serve as a permanent solution able to keep your adjacent teeth healthy. While a bridge is a working alternative when a tooth is lost, dental implants require no work to be done on nearby tooth structures, allowing you to keep your natural teeth natural and sound.
The implant process as a whole can be considered a longer one, as it will take a course of a few months to be completed. The implant itself will act as a synthetic root structure taking the place of the missing tooth's root, and this keeps your other teeth from moving in order to fill the gap.
The first step of the dental implant process is the placement of the actual implant itself, and this is done by placing a small screw into the root's vacancy through the gum and jawbone.
After placement, the implant must be given around 3 to 6 months to heal and fuse to the jaw bone itself. As the jaw bone fuses around the implant in a process called osseointegration, you will be fitted with a temporary crown in order to chew normally and protect the implant site as well as maintain aesthetic.
Once the implant has healed, it will then be time to attach an abutment to the implant to allow for a permanent crown placing. An impression will be taken of the new abutment, and this mold will be used to create what will then be your new permanent crown. Taking care of a dental implant is much like taking care of a natural tooth, and the implant is crafted to mesh seamlessly into your smile.
For more information about dental implants contact our Stony Brook dental office at (631) 751-7645.
---
The content offered on this website is for informational purposes only and does not seek to diagnose and/or treat any physical, medical, dental, and/or periodontal condition or disease. In addition, the offering and consumption of this content does not establish a doctor patient relationship. If you are experiencing any pain, discomfort, swelling, and/or bleeding in your mouth and/or jaw this may represent a serious condition and can only be diagnosed and treated by visiting a medical doctor, dentist, and/or periodontist in person.