Smile Gallery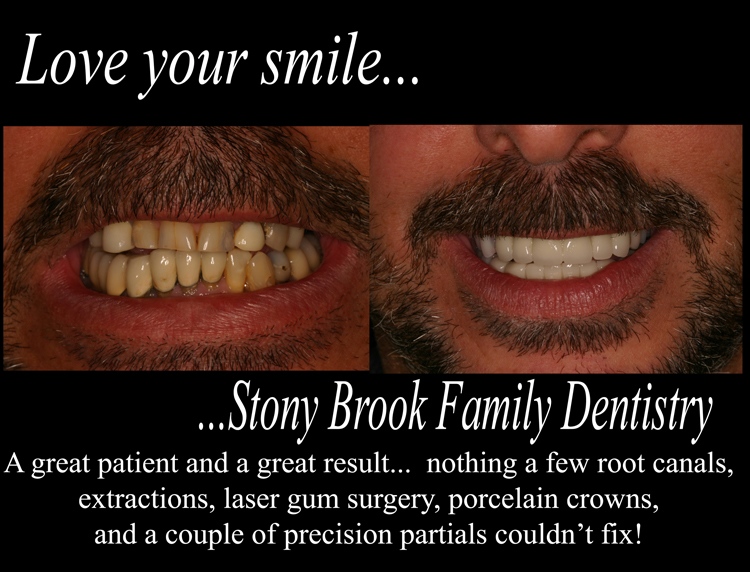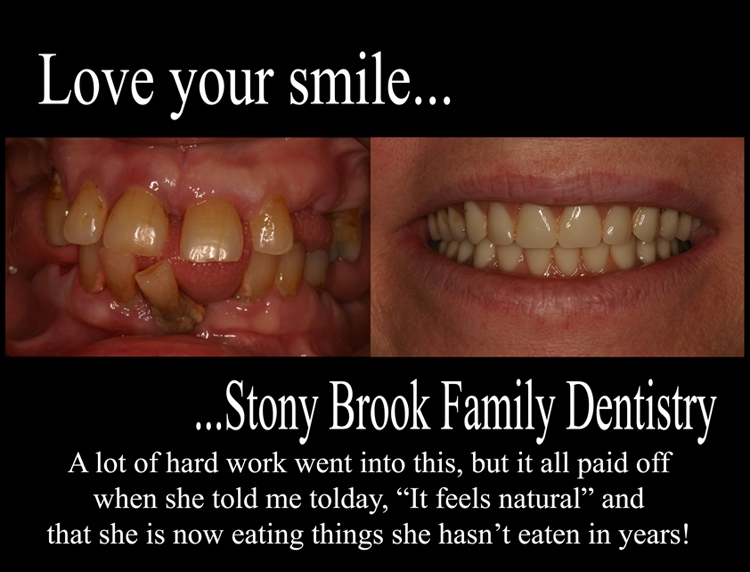 Here are some of the patients we have had the pleasure of caring for…
(note: unlike many other offices who  post other's work as their own, these are our actual patients!)
Full Mouth Rehabilitation:

This took a little bit of everything we do… Root canal, Laser Gum Surgery,Porcelain Crowns and Bridges….She was thrilled that we could give her such a comfrotable and great looking smile.
We enjoyed treating her and love to make our patients happy!
Cosmetic Porcelain Veneers: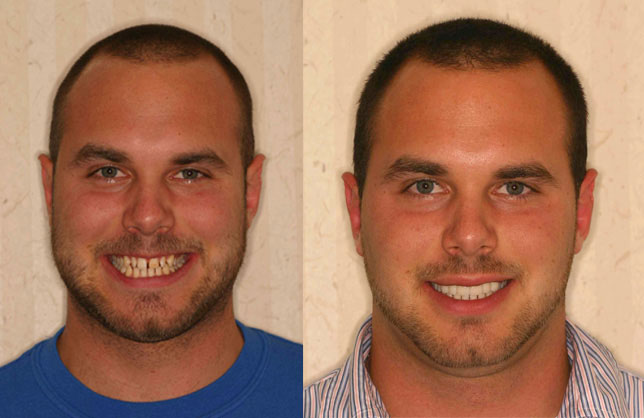 We were able to close all the spaces for our friend here using Quality Porcelain Veneers, which strongly bond to his front teeth and provide him with the Perfect Smile he always wanted!
Compete Dental Rehabilitation:

Our patient here is a retired teacher who neglected his mouth for many years… We were thrilled that we could help him keep his teeth and improve his appearance!
Invisalign – Invisable Braces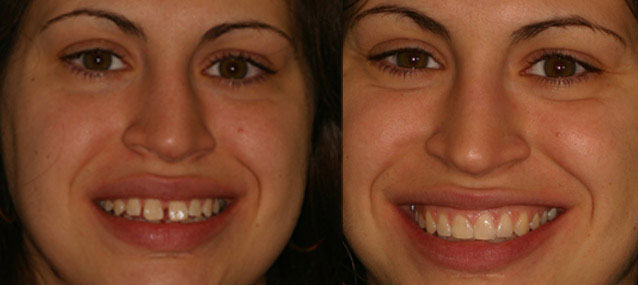 Why wear metal braces?
We can do so much with Invisable Braces, and no one even knows your wearing them, Here we closed all the Gaps in our young friend's Smile – She didn't believe we could do it – She was Thrilled with the results!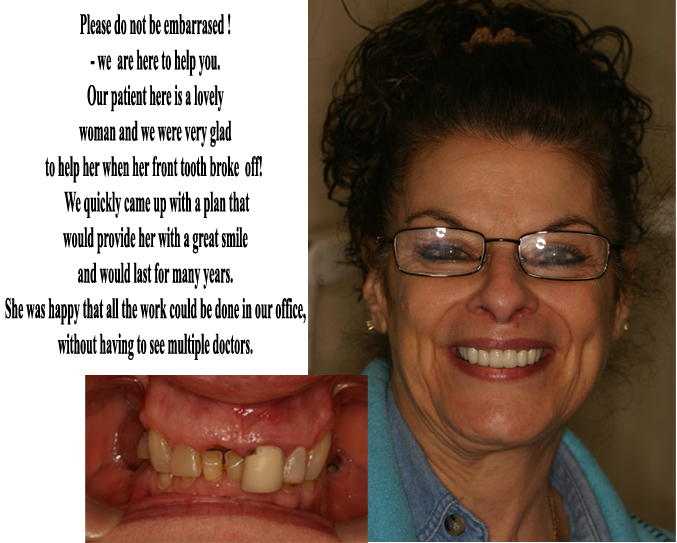 Dental Implants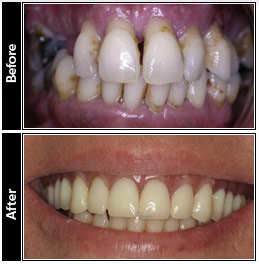 This patient's teeth were replaced using dental implants.
In the past, she couldn't have dinner
with her family with confidence. Now she can eat all the things she was afraid to, with confidence, and no one knows they are implants!
Porcelain Bridges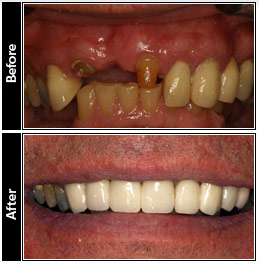 Fixed smile using porcelain bridges – we sculpted and crafted each tooth to ensure a natural look. While this case is extreme, our office can correct virtually ANY dental problem and give you the smile you deserve.
Lumineer Veneers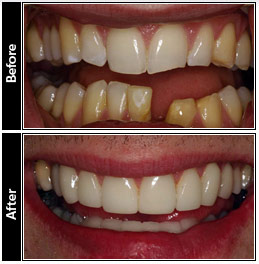 An accident had broke several of Don's teeth. We fixed the broken teeth and restored his smile using a combination of Porcelain LUMINEER Veneers and a Porcelain Cerinate Bridge. We carefully chose the shape, size, and color to create a smile that was even better than what he had before. His smile looks great and, because these are so strong, he can eat whatever he likes, without worrying.
Full Mouth Reconstruction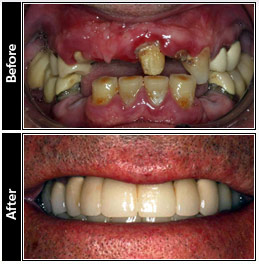 This gentleman hadn't been to a dentist in 20 years. He had let things deteriorate to such a point, he was embarrased and didn't think much could be done. We never make you feel bad or yell at you for this, we provide a supportitive enviorment where you can feel comfortable and confident that we will fix things right!  We explained how dentistry has had many advances and we could give him back his smile once again, painlessly! We used a range of techniques and procedures to re-create a healthy smile once again, including implants, bridges, and porcelain crowns. The result- another happy patient!
Never be afraid or embarrased – we do not judge or yell at you – we are here to help you!
Invisalign Braces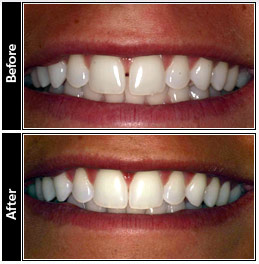 A.M. came to us unhappy about the gaps she had between her front teeth. We discussed her choices and decided that invisalign would be a great choice. Using invisalign, we closed all of the gaps, painlessly, only 3 1 /2 months and the result was perfect. Now she is happy to smile and she tells us everyone comments on how great her teeth look.
Invisalign Braces with Crowns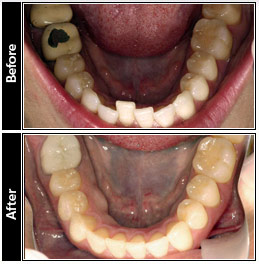 Mrs. G.B.  had braces as a child, and now in her mid-thiries, she noticed her lower front teeth were begining to shift and crowd one another. She did not want to wear braces again, and was thrilled when we told her how we could starighten her teeth using Invisalign. We straightened her teeth in 4 months. She was thrilled not to have crooked teeth anylonger, and also, that no one at work even knew she was having it done. The lower back teeth had old, unsighlty crowns, which we replaced with new, porcelain crowns that look like real teeth.
This is a very common situation that we treat frequently – if you notice your teeth look like this, let us know, we are happy to help!
Dental Implants and Porcelain Crowns
---
The content offered on this website is for informational purposes only and does not seek to diagnose and/or treat any physical, medical, dental, and/or periodontal condition or disease. In addition, the offering and consumption of this content does not establish a doctor patient relationship. If you are experiencing any pain, discomfort, swelling, and/or bleeding in your mouth and/or jaw this may represent a serious condition and can only be diagnosed and treated by visiting a medical doctor, dentist, and/or periodontist in person.